July 12, 2014:
My 97-year-old father,
Lumir S. Palma,
is doing well, and we are trying to determine if he is the last living Packard Automobile dealer. "Dealer" would be defined as a man (or woman!) who actually signed a Franchise Agreement with either Packard Motor Car Company or Studebaker-Packard Corporation, to sell and service Packard automobiles.
I have the original copy of my Father and his brother Milton's 1953 Franchise Agreement with Packard Motor Car Company, to sell and service Packard automobiles in Illinois' Edgar and Clark Counties from their dealership in Paris IL, the seat of Edgar County. They went out of business August 1, 1956. Uncle Milton passed away December 30, 1994, leaving Dad as the Survivor of the Brothers' Partnership.
Dad was the topic of a
Personality Profile
in the May 2010 edition of
Hemmings Classic Car
magazine. (I did not author the article, but supplied the pictures for it and put Writer Dave LaChance in touch with Dad for the interview.)
I've been checking and asking around, and no one can confirm another living Packard dealer, as defined by having signed a Franchise Agreement. If anyone is aware of,
and can confirm,
another such person,
please post the particulars.
Here is a photo of Dad taken with his 2012 Christmas Present, an engraved piece of the East Grand Blvd Administration Building reception area marble
floor,
which, if you have been there, you know consists of many broken tiles due to the vandalism to which the property has been repeatedly subjected.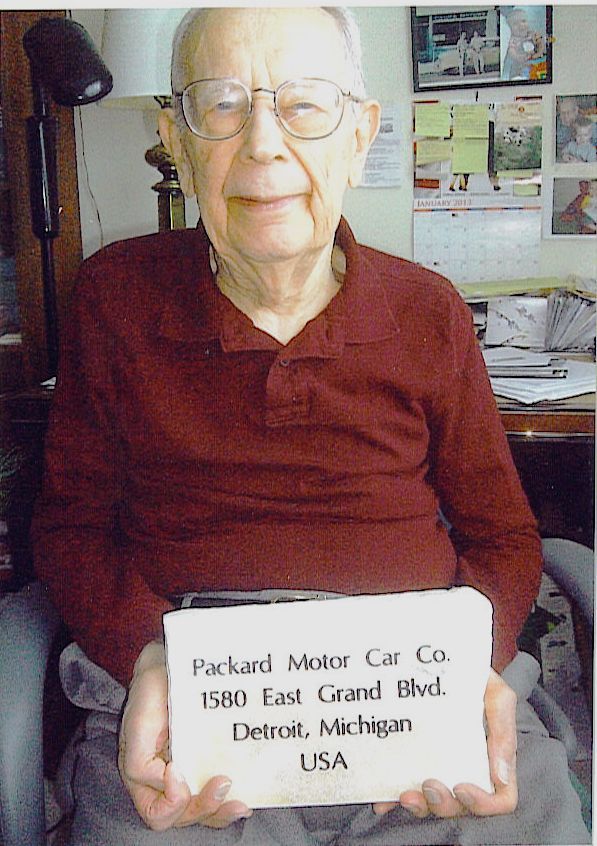 Thank you.
Bob Palma, son
Quarterly Columnist:
Hemmings Classic Car